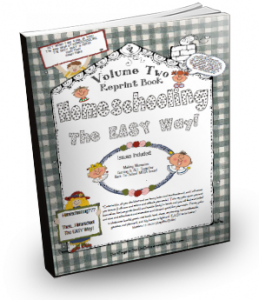 Need MORE help homeschooling the EASY way? Well, this book is just for you!
Our Homeschooling The Easy Way Magazine is published with the goal to encourage a return back to God's design for the godly home and homeschool!  Each issue includes articles that encourage homeschooling with a lifestyle of real learning that returns to the OLD PATHS that have worked for centuries. Topics range from hearing God in your homeschool to balancing all of the many demands that the busy homeschool mom faces day-to-day to teaching lessons in a simple, EASY way to VERY practical ideas that are sure to make homeschooling in your home EASY too!
This volume includes even more great articles from Homeschooling the Easy Way. You won't want to miss this one! Check out the articles included in this Volume:
Volume Two…

Some of the article titles include…
* Heart-To-Heart: Making Memories
* Teach ME Lord, That I May Teach
* Ideas for STRETCHING That Travel Budget
* Fine Arts…The EASY WAY
* Music Studies in the Homeschool
* Build a Holiday Recipe Notebook
* Great Christmas Read-Alouds
* Featured Homeschool Business: Matthew's Cutting Edge
* Country Cookin'
* Letters We Love
* Ancient Paths and Good Ways
* Children Won't Wait
* Slow Down
* Making Time to Rest, Re-Fill and Renew
* Just TOO Busy
* Solitude
* Teach YOURSELF
* Need a DO-Able Routine?
* News Alert
* Schedule Pleeeeeeassseee
* A School Day in a Charlotte Mason Homeschool
* Lifestyle Help for Those Frustrated with Their Weight (and Health!)
* Making YOUR OWN Brain-In-A-Binder
* 13 Guidelines for Finding and Keeping Balance
* Keepin' On Going
* Just for Giggles
* Paper Attack!!!!
* Notebooking Reproducibles
* Great Copywork You Will Love
* Our Notebooking Adventure
* A Heart for the Home
* Two Great Bright Business Kids… Drew Perry and Elisabeth Rushton
* From The Editor's Desk: At Battle!
* HELP! I Have NO IDEA Where to Begin Homeschooling!
* Develop Your OWN Philosophy of Education
* 67 Ways to Reduce Stress!
* On eBay!
* Restoring Balance to Completely OVERLOADED Lives!
* Getting Your Homeschool Organized
* Quick Tips for Setting Up Your Daily Schedule
* Dry Spells, Holding Patterns—WHEN IS IT GOING TO RAIN!???
* F…FUN!!!
* Our EASY Family Bible Reading Plan
* Ready for a Nature Walk???
* Fall Nature Study Ideas…
* Let's Make a Memory…Over a GREAT Book!
* Just for Giggles…Ever Thought???
* Notebooking! Sure To ADDICT You Too!
* A Quick Notebooking Shopping List!
* Journaling!?!?!?
* Letters We Love!
* Great Homeschool Planning, Organizing, and Record-keeping Reproducibles (only found here!)
* Plus! Much, Much More!
Regular Retail: $29.95
SAVE HERE: $18.95
[wp_eStore:product_id:16:end]