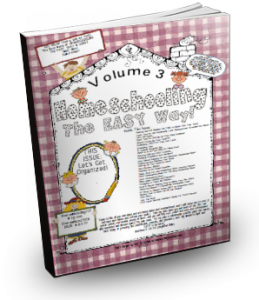 Not one single area of your life will be left out as Cindy helps you to get your homeschool organized now. This book has quickly moved to the top of our books as one of the best-selling books of all times. I think you will see why very quickly.
This book is the 3rd Volume of our Homeschooling the Easy Way eBooks. It is loaded with chapters that are certain to help you get organized and get going on the right track. Just take a look at this list of chapters from this book:
* Quick Tips For the Perpetually Late, Disorganized, Stressed Out Mom!
* Hearing God 101 Redeem the TIME to Make This Year Tops!
* Let's Set Goals…
* Quick Tips For Setting Up Your Daily Schedule!
* What's Eating Up Your Time???
* Scheduling…EASY??? Yep! Just Look!
* Scheduling Tips
* A Typically Untypical Day
* What is an IEP and Why Do I Need One?
* Planning FUN and EASY Lessons…
* Studying Presidents and Elections?
* Easy Record-Keeping for the Reluctant Homeschool Mom!
* Organizing and Cleaning Your Home
* Setting Up Your Home to Learn!
* Rain Gutters—INSIDE!
* Stocking Up On School Supplies…
* Relax, Have Fun, and Homeschool With Learning Centers
* EASY Homemaking Ideas For The Busy Homeschool Mom!
* Quick Homemaking Ideas…
* What about Children and Chores???
* Struggling to Teach My Children…
* Once-A-Month-Cooking: How to Make Your Plan Work
* Restoring Balance To Completely Overloaded Lives!
* 67 Ways to Reduce Stress (NOT an exhaustive list!!)
* Making Time To Rest, Re-fill and Renew!
* Slow Down…
* Just Too Busy!
* FREE Printable Planning Pages for Your Planner!!
Need to get organized? Need help getting started on the right track? Don't miss this book!
Regular Retail: $29.95
SAVE HERE: $19.95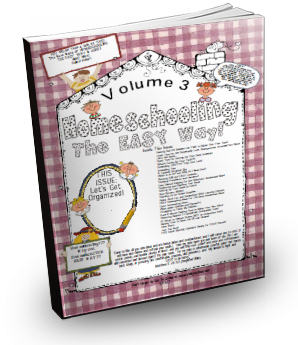 OR! Grab Our Bundle and Save a Bundle!!