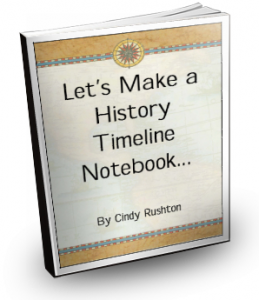 Ready for a fun and easy way to give your children a flow of history while introducing them to great people? Need a little help in pulling together your history studies? Ready to teach History The EASY WAY???
Join Cindy as she takes you through the basics of teaching History The EASY WAY while showing you how to make your own history timeline notebooks!
Cindy will show you how to set up a basic timeline notebook while you try your hand setting up YOUR OWN pages. Cindy will give you some cute ideas for making your own timeline figures by using the resources that you have already. This booklet goes even further! It includes very practical how-to's and ideas that are sure to help you make history lessons doable AND easy. If you are needing a bit of help for planning your lessons, breathing more life into your studies, or just knowing how to document what your children are learning, this is a booklet you won't want to miss!
PLUS! Two ways to get this ebook!
1st Subscribe to our Homeschooling the Easy Way eMagazine and get it FREE today!
Grab for only $6.95
[wp_eStore:product_id:19:end]