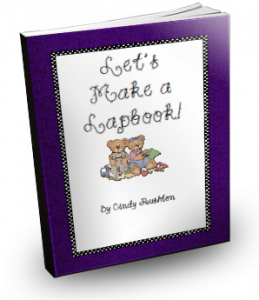 Have the Lapbooking fever?? Watch out! You are sure to catch the Lapbooking bug!
Are you ready for a FUN way to encourage your most reluctant writer to write AND like it??? Not sure if you want yet ANOTHER thing to do? Oh, beloved friend, you are going to just LOVE making Lapbooks in your homeschool! Your children are going to LOVE making Lapbooks. Don't believe me? Join Cindy Rushton as she takes you through the simple steps of creating Lapbooks. Cindy will take you by the hand and walk you through the easy steps of creating your own Lapbooks with your children.
Ideas!
Fun!
Encouragement!
Practical how-to's!
All in one easy to follow book! This is going to be your favorite book! You simply CANNOT miss this one!
Cindy began this book as a "quick" series of articles for Homeschooling the Easy Way eMagazine . By popular request, these articles have been produced in their very own reprint book on this theme. Everything is in ONE place, easy to print and read!
We are so excited to offer everything that Cindy has written on making lapbooks in ONE incredible book! Not only does this book have all of her information on Lapbooking in ONE place, ready-to-print, but it also includes cute clips of the Rushton kids' Lapbooks! If that is not all, you will simply LOVE having all of the links clickable–over 200+ links to great sites online with even more information! Best of all, this new book is now available as an E-book. You can order today and receive YOUR order within 24 hours. Yep! It arrives by email. In just 24 hours (or less!), you can receive each E-Book jam-packed with everything you need to begin Lapbooking! You are sure to love it!!
PLUS! Our FREE Bonus!
Yep! We are also including a free audio workshop featuring Cindy Rushton teaching a workshop on this topic. When you order our E-Book, you get this awesome workshop for FREE! Check out the details about the audio workshop:
Let's Try Lapbooking Audio Workshop!
FREE WITH YOUR ORDER!
Join Cindy as she takes you through the simple steps of creating lapbooks while developing fun studies on any topic. Of course, Cindy will be providing you with handouts and a cute plan for teaching her newest Unit Study "On the Go with Lewis and Clark" while you are in this workshop. Ideas! Fun! Fellowship! All in one great make-and-take workshop you definitely do not want to miss!
Grab this book and its bonuses for only $15.00
[wp_eStore:product_id:20:end]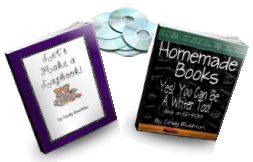 Need a bit more help?
We have a SUPER deal for you–you are going to LOVE this bundle!
Order Let's Try Lapbooking and Homemade Books E-Books together and SAVE, PLUS get several free audio bonuses!!
Let's Make a Lapbook by Cindy Rushton
Let's Make Homemade Books by Cindy Rushton
10 Fun and Easy Ideas for Making Homeschooling Great! By Cindy Rushton
Language Arts The Easy Way by Cindy Rushton
[wp_eStore:product_id:21:end]