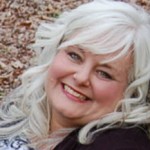 Welcome!
I am so glad to welcome you to my "Virtual Vendor Booth!" Just look around and dig in to my goodies for you. I am praying that they will be a big blessing to you as you gear up for your new school year!
First, one of my favorite workshops that I teach at homeschool conventions is called, Gearing Up for Another Big Homeschool Year. Here are the links to download by Mp3:
Speaking of that, I have a really good series of articles that I shared in my Homeschooling the Easy Way eMagazine. These are set up in PDF format, so they are ready to print out. They cover the many topics that we all think about this time of year. Why not print them out, grab a big cup of tea, and enjoy? Here they are:
Let's Get Ready for the New School Year!
Getting Started on the Right Track!
Reach Your Own Philosophy of Education
Homeschooling: Digging Into All of the Options (give this one plenty of time to open, it is a larger file than usual)
Setting Up Your Home for Real Learning

Scheduling: Help for the Stressed, Inconsistent, Want-to-be Flexible and Organized Mom!
If you love these, you will LOVE our Homeschooling the Easy Way eMagazine. Just look on the right sidebar to sign up for each issue. They are FREE! You will love it!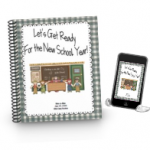 Let's Get Ready for the New School Year – Audio AND Printable Planning Pages
Gearing up for another big school year? OR, not quite ready? How about a shot of encouragement, inspiration and a few amazing how-to's for kicking off your very best year ever? That is what today's session is all about. Join Cindy as she takes you by the hand and helps you gear up for the new school year. This is one session to be sure you do not miss! (AND…bring a friend or two!)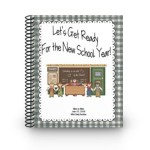 PLUS! Let's Get Ready for the New School Year Mommy Planner…
A newbie of mine! I prepared this book for our Mom-to-Mom Gals. It includes our Mommy Planner with a potpourri of planning sheets from all of our products. We will use this for one of our sessions for this study. Do note: this page also has links for the LGO book and the audio (I will post it in the next posts) from our monthly Mom-to-Mom Meeting that we held here in Florence. It is full of goodies!
Also, how about some help teaching all of the various subjects? Yep! The following are some of my audios that will help you as you teach the various subjects. All you have to do is download and enjoy! Here they are:
Easy Homeschooling Across the Curriculum
Message Part One
Message Part Two
10 Fun and Easy Ideas for Making Homeschooling Great
Planning Fun and Easy Lessons
Message Part One
Message Part Two
Igniting a Love of Writing in Your Reluctant, Resistant, Frustrated, and Totally Uninterested Student
Notebooking! YES! You Can Be a Binder Queen Too!
10 Tips for Making History Come Alive!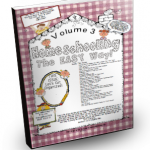 And, one more fun gift! My eBook, Let's Get Organized! Do you wish that you could have a friend come over and help you get everything ready for your new school year? Do you wish you could have some help organizing everything–your schedule, your home, meals, etc? Well, you will LOVE this gift! Not one single area of your life will be left out as I help you to get your homeschool organized now. This book has quickly moved to the top of our books as one of the best-selling books of all times. I think you will see why very quickly. Just take a look at this list of chapters from this book by clicking the link above. You will want to grab this book and keep it handy. Let's get organized together!
Well, ready to dig into all of your goodies?
I hope so! My prayer is that these goodies will help you to make this year your very best ever!
Of course, while you are here, why not take a peek around at all that I do. On the side-bar, check out links to all of my sites and stay connected with me by join my mailing lists. Also, if you need more help, why not check out my eStores? We have a full line of eBooks, audios, and seminar sets that you will love. Just use our coupon code UHSE to save 50% off of any order in my stores! Here are links to find them:


Our eStores…
Visit The Talk-a-Latte Shop
Visit my Cindy Rushton Shop
Visit our Biz Mentor Shop
And! Save when you shop with us!
Use our Coupon Code "UHSE" to save 50% OFF of any order with our eStores!