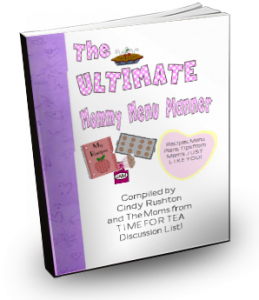 We are SO excited to be able to introduce our NEWEST E-Book! Yep! THE ULTIMATE MOMMY MENU PLANNER is now available by E-book!
Bored with the same old, same old meals? Just wish you could get just ONE fresh idea? What if you could link up with over 40 other moms for menu plans…meal ideas…recipes…shopping lists…and even planner pages? Well, YOU CAN!
THE ULTIMATE MOMMY MENU PLANNER includes over 280 pages full of great recipes, meal ideas, and menu plans from over 40 REAL-LIFE moms, printable planning sheets, tips sure to make managing meals easy, plus much, much more!
Inside This Book:
* Develop Your Own Plan for Easy Meals!
* Our Favorite Easy Recipes!
* Cindy's Tea Time Recipes!
* Easy Candy Recipes!
* Our Cookie Favorites!
* Our Holiday Favorites!
* Our Holiday Meal Menu Plan!
* Our Bread Recipes!
* At Home with our TIME FOR TEA Gals
(recipes, menu plans, meal ideas, and shopping lists from over 40 other moms!)
* Websites You're Going to Love!
* Printable Pages for YOUR OWN Menu Planner!
* How to Make Your Own Family Organizer!
* Quick Tips To Help Make Managing The Kitchen Easy (Well, Easier!)!
* PLUS Much, Much More!
You will LOVE IT!
So, whether you are struggling with those blank stares into the refrigerator…wondering about how to make meals more nutritious and yummy…needing some practical tips for managing your kitchen…or just needing a little help making your own menu plan, this is your book! In this book, you are guaranteed to find your ULTIMATE Mommy Menu Plans!ay! We think that you will turn to this book for years!!
Grab today for only $19.95!
[wp_eStore:product_id:49:end]