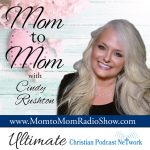 Hello Dearies!
I just finished a project with one of my dear friends. I prepared a bonus for her group. As I finished it up, I just felt that it was an essential for you guys. Soooo, I want to send it as a bonus goodie for you today.  Here are the details:
Lord, Give Me an Uncluttered and Focused Heart!
Download Part One by Mp3
I hope that you LOVE these! Let's make this year our very best EVER!
Love ya tons!
Cindy
SHOW NOTES:
Marriage 911 Flight Plans
https://www.CindyRushton.com/FlightPlans.html
See Us Online!
https://www.CindyRushton.com
On Facebook? I am! Find me here:
https://www.facebook.com/Cindy.Rushton
AND! I am on Twitter!
https://twitter.com/cindyrushton