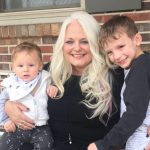 Excerpted from Cindy's best selling Christ-Centered Christmas . 
* Spicy Cinnamon Sticks…Gather a bunch of extra long cinnamon sticks and tie with a holiday ribbon and a sprig of holly or baby's breath.  Cute to hang on the tree, sit around, and place on gifts instead of a bow!

* Painted Wooden Ornaments…Purchase pre-cut wooden Christmas cutouts that are pre-painted.  Tie with gold, green, or red thread and use on the tree or as necklaces.  Hot glue a pin on the back to wear as a holiday pin!
* Cookie Cutter Ornaments…Purchase metal cookie cutters and tie bright holiday ribbon through the top!  Easy, Inexpensive, and Precious Gift!
* Recipe Book…It could be just holiday ideas like this one or it could be a collection of all the treasured family recipes.  It could be a collection from all relatives' submissions.  Be imaginative!  Be sure to keep a copy for your daughters!
* Pictures…Frame a special drawing from the children!  This is sure to be a hit!
* Books…Try your hand at creating books complete with your own original story and illustrations…This is an EXCELLENT school activity!
* Handprint Wallhanging or Sweatshirt…Place bright paint in pie pans (acrylic for burlap wallhanging or fabric paints for sweatshirt).  Have each child put his handprint on material.  The following verse can be painted or attached:
Although we are sorta small
And leave our fingerprints on the wall,
This will help you remember the way
Our fingerprints looked on Christmas Day!
For wallhanging, put a thin dowel rod across the top.  Tie yarn as a hanger.  Fringe the bottom, and you have a fun, sweet gift!
Don't Miss Our Book Christ-Centered Christmas! Available in Ebook version!  

Grab Cindy's books and audios for HALF OFF! Just use the coupon code: ALLTHINGSNEW