Podcast: Play in new window | Download
Subscribe: Apple Podcasts | Google Podcasts | Spotify | Amazon Music | Pandora | iHeartRadio | Stitcher | Blubrry | Podcast Index | TuneIn | RSS | More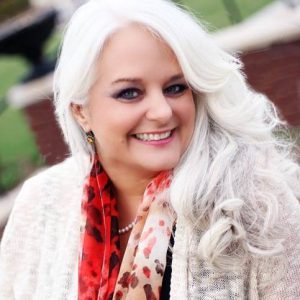 Welcome to this week's new show! I am Cindy Rushton and I want to welcome you to my podcast. This week's show is a really raw topic – it asks the questions of whether we are resilient or stuck. Talk about a personal topic!
Relate?
I suspect that you will find this one to be a timely word for you as well.
We all face change, life transitions, crisis situations difficulties, setbacks, grief, loss, sickness from time to time. The question is not IF we will face it, but what do we do when we face it?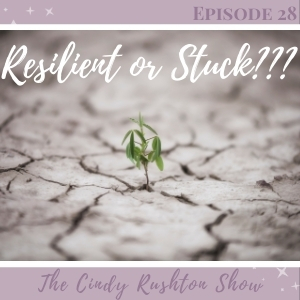 Do we:
Get stuck?
Get paralyzed?
Get stressed out?
Panic?
Get overwhelmed?
Give up?
Quit?
Or do we:
Bounce back?
Take leaps?
Spring back?
Come back?
Push out into the unknown?
We all have our own lids, our own limits, areas where we pull back a bit,
Resilience is the ability to recover quickly—from change, illness, loss. Resilience is a buoyancy. It is that ability to be stretch, bent, compressed and yet snap back into position. It is that act of leaping, springing back, rebounding. It is that quality that enables you to recover quickly or just snap. It is
When we are talking about you as being resilient, we are talking about that quality that you possess that enables you to bounce back and get back into position when you are pressed, pushed, stretched. Resilience is what determines if you will bounce back or be flexible when you encounter obstacles, difficulties, loss, grief, and crisis.
Struggling?
Been hit on every side?
Things keep on coming…one thing after the other after the other after the other??
How are you when tough times hit? Well, this week's show is just for YOU! Let's dig in to this week's show….
Podcast: Play in new window | Download
Subscribe: Apple Podcasts | Google Podcasts | Spotify | Amazon Music | Pandora | iHeartRadio | Stitcher | Blubrry | Podcast Index | TuneIn | RSS | More
Show Notes:
Dare You to Move by Switchfoot:
Episode 21: Let's Talk about Business, Ministry, Websites, and SEO with Tyler Krause! 
https://cindyrushton.com/CindyRushtonShow/blog/episode-21-lets-talk-about-business-ministry-websites-and-seo-with-tyler-krauss
Don't forget to connect with me online too!
• My Website: https://CindyRushton.com
• My Podcast: http://TheCindyRushtonShow.com
• My YouTube Channel: http://CindyRushton.com/YouTube
• Join Our Facebook Group: Stepping Up to the Call Facebook Group:  https://www.facebook.com/groups/SteppingUpToYourCall
• Cindy Rushton at Clubhouse and other Social Media