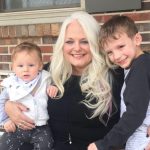 A cup of tea???
Tea…What comes to your mind?
As I think back over the years since that first cup of tea, I think beyond the various types of tea…the beautiful tea rooms and homes that have welcomed me for the ritual…the unique cups and teapots, each with its own story…all those details blur.  But, one thing brings me back to "tea" over and over again…relationships!  Relationships forged over moments shared over a cup of tea. Sweet, sweet memories that forge forever relationships.
My very first memories of tea were on the front porch, truly Southern Style with Iced Sweet Tea.  There was never a meal served or a family gathering without plenty of Iced Sweet Tea.  Just visiting Mamaw, I could always expect a big, tall glass of Sweet Lemon Tea whether we were working in her kitchen or swinging on the front porch enjoying her flowers and sweet conversation. [Read more…] about Let's Make a Memory…Over Tea!