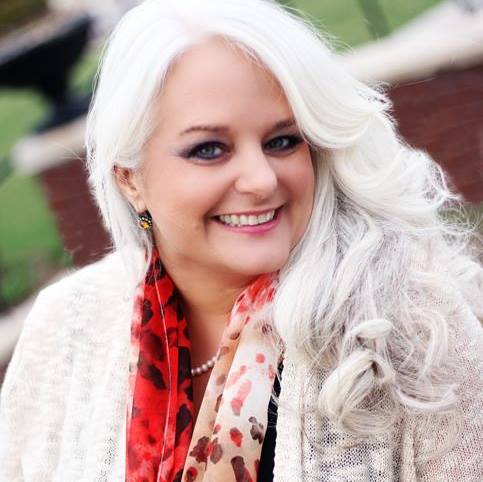 What difference can a year make?
What difference can beginning your year well make?
My dear friend. This is YOUR year. It is not another "all or nothing" for your life. The greatest mistake that anyone could make is to let a date pass and think that because they did not get started, they need to wait for another whole year to go by.
What if you could just jumpstart this year and get on the right track toward your calling? Your life purpose? Your destiny? YOU CAN!!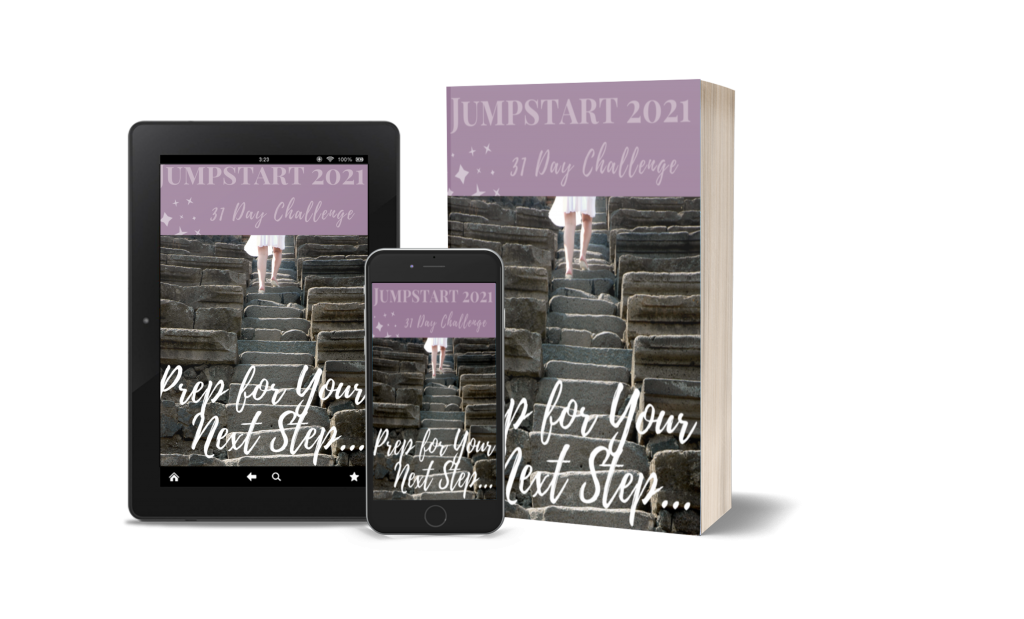 We are kicking off our annual 31 Day Challenge. Our Jumpstart 2021 will be on the theme: Prep for Your Next Step!
How It Works…
We will be hosting TWO power sessions each week.
We will be having a LIVE implementation session  at 7PM CT each Thursday Night in January.
We will be hosting each session live in Cindy's Zoom Room.
Each session will be available via replays in both video and audio format for those who purchased access to our challenge membership.
These sessions count as points in our challenge!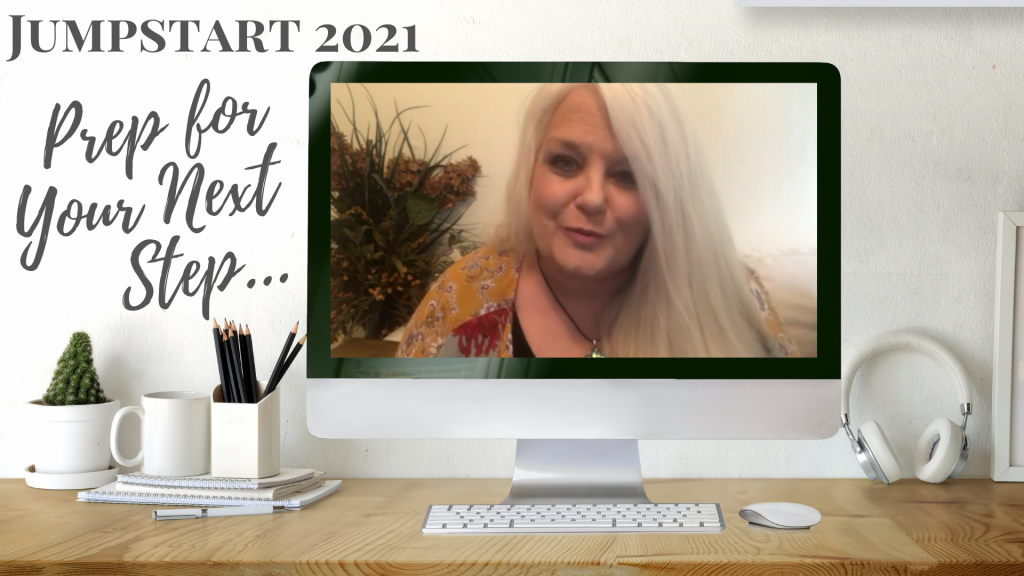 That is NOT All!
Cindy will be teaching live sessions each Tuesday Morning at 10AM CT just to give you a big shot of encouragement for the week.
You can catch that LIVE on Facebook at Cindy's Facebook Page, profile or our Facebook Group.
Replays for this session will be available in video format for those who are part of our Facebook Group and in audio and video format for those who purchase access to this challenge membership. These count as points in our challenge!

There is MORE!
Oh! Yes! Cindy has prepared an unbelievable resource as our Jumpstart 2021: Prep for Your Next Step Action Guide is truly one of the best resources that she has ever written. This jam-packed manual is anointed, practical, easy to implement.
The New and Expanded Action Guide includes the following topics and sections:
TABLE OF CONTENTS
Welcome to Jumpstart 2021!
It is Time to Jumpstart 2021!
Gear Up!
WHO Are YOU?
What are YOU Here For?
What is YOUR Message?
Who is Your WHO?
What is Needed?
Prep for Your Next Step!
Challenge 1: Website (Or Website Revamp!) in a Weekend!
Challenge 2: Start (& Grow!) Your Own Email List!
Challenge 3: Let's Blog!
Challenge 4: Let's Podcast!
Challenge 5: Let's Get Social!
Challenge 6: Set Up Your Own YouTube or Rumble Channel!
Challenge 7: Let's Go LIVE!
Challenge 8: Plan Your Content Calendar!
Challenge 9: Plan, Promote, and Host a 5 Day Challenge!
Challenge 10: Start Your Own Facebook Group!
Challenge 11: Plan, Promote, and Host a Webinar to Build Your List!
Challenge 12: Write AND Publish Your Own Ebook
Challenge 13 – Build Your Product Line with Evergreen Sales that Make Money on Repeat!
Challenge 14 – Map Out Your Own Mastermind Program!
Challenge 15: Grow Your List AND Your Bank Account with Quizzes
The Jumpstart 2020 Action Guide is set up in a format that you can use for a daily retreat for your business or ministry. It is written as if you are sitting across from me having a cup of tea and working on your business or ministry. If you work through this guide, you will have the success that you are looking for. This year will be completely different for you. You will take massive action!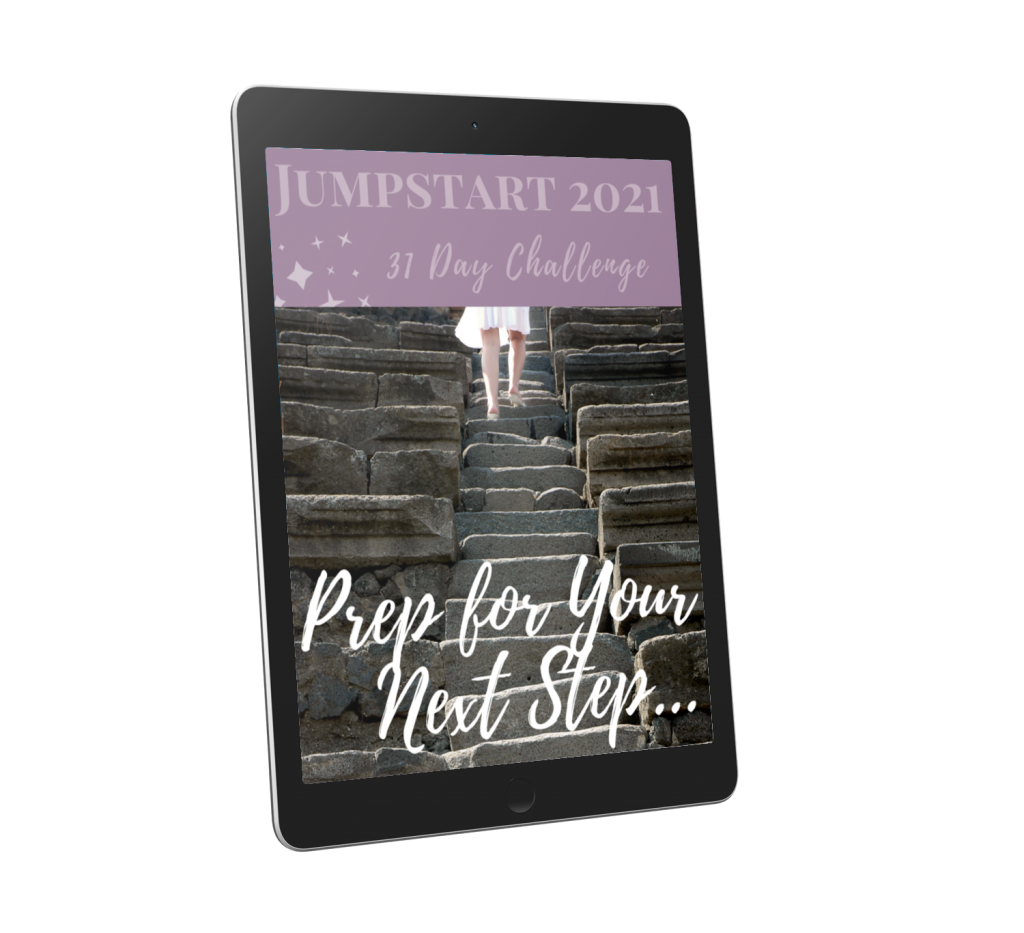 Well, don't take my word for it, here is what has been said about our Jumpstart 2020 31 Day Challenge:
Do this now!  This challenge helps you get organized and see what's possible!    This challenge gave me the confidence to step up and step out to finish the things God has put in my heart to accomplish. Michelle R.
What makes Cindy special in this day and time is her Anointing to equip and send out people on their own unique mission. If you are seeking real change and empowerment, then having Cindy as your mentor should be one of your first investments. She is at the forefront of a fresh move of the Spirit. I love her and I believe you will too. Kim H.
This challenge has made me stretch myself and ask those hard questions of what I want and where I want to take my ministry.  It's given me focus and purpose for my vision. Lucia C.
The challenge brought me back to finding  out the Heart of Jesus goals for me, seeking Him and not me, taking focus off what I think is important before His original idea. Julie T.
Cindy's encouragement and excitement is contagious, and she helps us all feel the same way about the ideas God has put into our hearts! Misty K.
Cindy is an amazing motivator and encourager.  Sis pour through her and flows into those she coaches. Betty E.
I wasn't in the challenge from the start, but I have overcome a huge hurdle!  It's been holding me captive for over a year!  And I have practical steps forward after the challenge! Elizabeth B.
Although was unable to participate this go round my biggest takeaways are from the guests and your lives and your nuggets… I love how you love to pour out all you have into others to not only influence but to also help equip and enable them to learn and try new things … through a variety of avenues ..speakers,,  challenges..etc… many blessings!!! Will definitely be keeping up with you on my journey as well!!! Donna A.

It is Time to Prep for YOUR Next Step!
We are excited to take massive action and get started on the right track. Probably the best part of our challenge is how flexible it is–you can make it work for you!
Challenge yourself alongside our group this month.

Work any one of the challenges at any time to troubleshoot your business or ministry.

Use any of these ideas to refresh your business or ministry.

Use this set as a regular retreat to evaluate, dream, troubleshoot, grow, expand your business or ministry.
Want more personalized help? Sure!
We have a crazy offer to add-on personal coaching with me or even VIP Implementation Coaching (only 4 openings left in January)–both at a significant savings when bundled with our challenge (One our Membership Page, you will see a coupon that will save 50% of ALL of my Coaching Services. We can set your dates in January or at your best time.)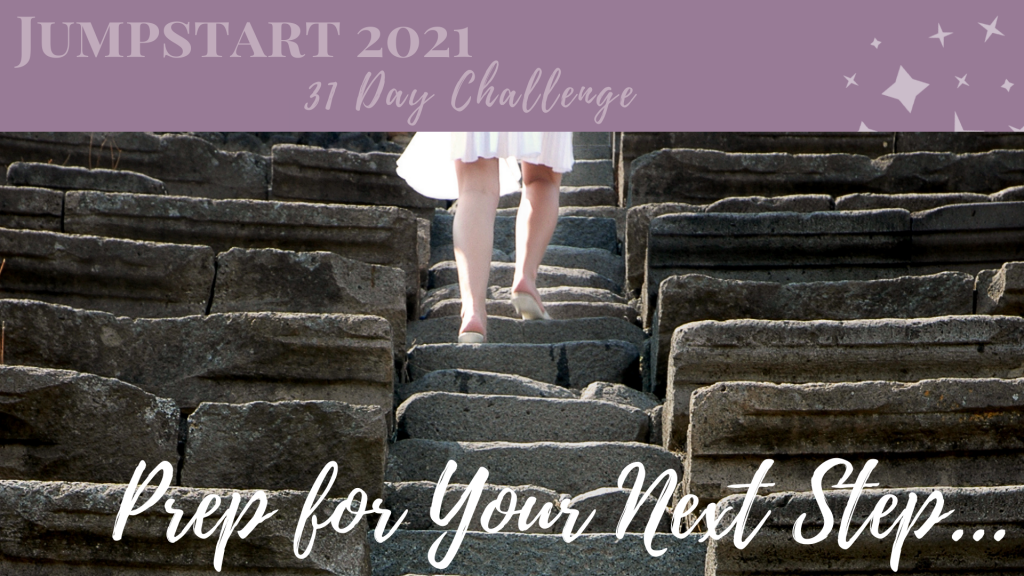 Go ahead.
Invest in YOU!

Invest in YOUR YEAR!

Invest in YOUR Business or Ministry!

Invest in YOUR dream!

Invest In YOUR calling, life purpose and destiny!
Join the challenge NOW for our crazy price! 
PLUS! When you do, you can also join our strategy sessions and pop-ups throughout the year that follow up and continue to hold everyone accountable.
Join Us for the Next 31 Days to Prep for
YOUR Next Step…