Thanks for Ordering!
Our NEW Crock-Pot Cooking E-Book!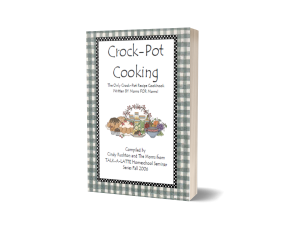 We have successfully processed your order for our NEWCrock-Pot Cooking E-book. Thanks for your order! We appreciate your business. I think you will really enjoy this book. Not to mention, your extra bonus freebies below! You are in for a HUGE treat!
The following links will open your goodies! Just click on the link for each section of the book! You are welcome to print them for your own notebook! Do note, that when you open your ebook, each section has bookmarks to help you find the various recipes and sections. Just click on BOOKMARKS (on the lefthand side of the browser) to open them up. You can click on any bookmark to go directly to that page. I think you will really enjoy this feature.
Ready to dig in? Here are the links to your ebook:
Crock-Pot Cooking
Part One
Part Two
Part Three
Part Four
Part Five
Part Six
Part Seven
PLUS! Your Extra Bonuses!

Gifts in a Jar by Tawra Kellum
This sweet ebook includes cute gift ideas that will not break your budget! PLUS! Step-by-Step instructions for making them up. And…it is a special bonus with your purchase! Enjoy! See Tawra online–
https://www.LivingOnaDime.com
Elisabeth's Cookbook E-Book!
A few years ago my daughter Elisabeth began collecting recipes from all of my recipe books. She compiled them into her own cookbook. It became such a treasure that our friends and family began to share their recipes with her. She decided to bless them all by compiling her favorites into a cookbook. This is it! And…it is your special treat! Enjoy!
Part One
Part Two
Part Three
Part Four
Let's Make a Memory by Cindy Rushton
Oh! Want to come home with me and snag some easy ideas for making your holidays special? This is the next best thing! This mini-ebook was birthed as my handouts for our Mom-to-Mom Meeting where I shared how to make easy candies. It is loaded with easy recipes, articles sure to help you get ready for the holidays (or any day!), ideas for making your own holiday notebook, plus much, much more! AND…it is a bonus with your purchase of our ebook! Hope you enjoy!
PLUS! How About Some Unadvertised Freebies???
The following are compiled from our Mommy Homework from our past Talk-a-Latte Seminar Series. Each week our moms have "Mommy Homework" that they turn in. The following links give you a sneak preview into some of the fun assignments. Want full access to the Membership Site? Check out our Talk-a-Latte Studies!

Bulk Cooking Recipes