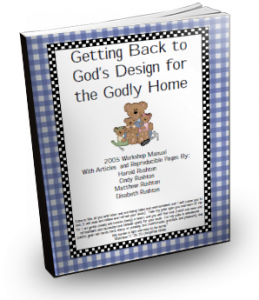 Planned originally for our retreat attendees, this manual is now one of our best-selling books! AND…now it is available as an E-Book! Better than a program…perfect for review…a memento that you will want to keep FOREVER!
When I asked myself, "What would I want for YOU to take home with you from our Retreats???" This syllabus became my answer! Not just articles and tips on what we speak about during the retreat…but, much, much more! We have articles sure to encourage and equip you for your calling by the Rushtons…shopping lists…tips…booklists…plus more! Want to know more about the book?
Check out the chapter titles:
* Time Out! To Fill YOUR Cup!
* I Think I am Solar-Powered…I NEED The Son!!! by Elisabeth Rushton
* Daily Manna
* Our All Time Favorite Bible Study Resources…
* 50+ Secrets for Survibing Your Struggles!
* Help! I Have NO Idea Where to Begin Homeschooling!
* Getting Started Homeschooling On The Right Track!
* Quick Tips for Making Homeschooling Great!
* Easy Record-Keeping for the Reluctant Homeschool Mom!
* Setting Up Your Home to Learn!
* Planning FUN and EASY Lessons
* Our TOP TEN (OR MORE) Favorite Books EVER!
* Let's Try Notebooking!
* A Notebooking Shopping List…
* Step-by-Step Help for an EASY History Study
* A Timeline Notebook–Easy as A, B, C!
* Let's Try Lapbooking…
* Let's Make Easy Booklets…
* Gearing Up for Another Big Year! OR! What I am Going to Do On Summer Vacation…
* The Story Behind Matthew's Cutting Edge by Matthew Rushton
* Tips from Great Men and Women in Business by Matthew Rushton
* Quick Tips on How to Begin Your Own Busines (And…Call It School!) By Matthew Rushton
* 10 Tips Sure to Make Your Business Great! By Matthew Rushton
* So…You Wanta Be a Writer? Get a Website! Easy E-Books and Books on CD…
* Develop the Disciplines of a Writer!
* Quick Tips for the Perpetually Late, Disorganized, Stressed Out Mom!
* Restoring Balance to Completely Overloaded Lives
* Just Too Busy
* EASY Homemaking Ideas for the Busy Homeschool Mom!
* Quick Homemaking Help!
* Tips to Help Make Managing the Kitchen EASY (Well, Easier!)
* What About Children and Chores?
* Destressing the Stressed Out Mom!
* Scheduling Tips…
* How To Destroy Your Man in Just Five Years!
* How to Help Your Husband to be ALL He Can Be!
* 101+ HOT Ideas for Romancing Your Sweetheart!
* Romancing Your Woman–Easy Ideas for You Guys!
* Romancing with CHOCOLATE!
* Quick Dating No-No's
* A Spicy Shopping List for the Romantically Inclined…
You will LOVE IT!
[wp_eStore:product_id:11:end]