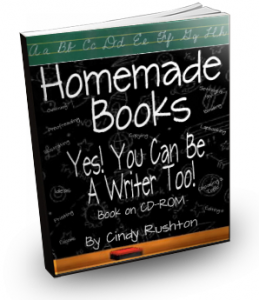 You will not believe how much is included in this book! Everything…I MEAN EVERYTHING that Cindy knows about creating books is included in this book! Over FIFTY chapters packed FULL of information! There is something here for every writer—student, parent, or professional! Whether your child is a toddler or teen. You will love this book!
Cindy's goal in writing this book has been to pass on her addiction to writing to each and every one of you, while helping you each step of the way! Once you see how easy this process really is and that you can write your book on what you really love, you are going to be addicted too!
In this book, you will find everything you will need to write a book, beginning today—
Step-by-step instructions.

Tips for making your book great!
Help for tweaking out the problems in the process.
Ideas to get you started or to trigger your own ideas. Of course, you may find your own ideas here already. If not, we left space all throughout the book for YOUR ideas!
Options for your preferences.
Help for wherever you are! Whether you have never written a book or you have written stacks of books!
Yes! This book is JUST for you! My prayer is that you will find this book to be a constant companion for all of your writing projects—for years!
CHAPTERS INCLUDE…
Come Write with Me;  Homemade Books! Yes! YOU Can Be a Writer Too; Why Write Books; 20 Reasons Why YOU (as a Student) Would LOVE Creating Your Own Homemade Books; Ok…But FIRST…I Am Dealing with a Reluctant, Frustrated, Wore-Out, Extremely Resistant Writer; Slow and Steady! Understanding the Process of Learning; Where Do I Begin; Step-by-Step From Start to Setup to Selling; Choosing the Perfect Topic; Ideas To Get You Started; Oh! The  Final Choice! The Topic For THIS Book; Get a Vision…The Cure for Writer's Block; Let's Try Outlining; Writing Your Heart Out; Making It Great by Proofreading; Taking a Look at Great Books for Ideas; The Parts of a Book—What To Include in a Book; An Easy Guide to Binding Options; What About Illustrations? Ideas To Get You Started; Get Ready to Publish…Creating Your Own Book; Make a Mock Up; Time to Design Your Book Cover; Easy Laminated Covers; Time to Edit!
Yes! YOU! An Editor; Making a Comb-bound Book; Share Your Treasure; OH! Help Me Make It Great; Let's Keep an Idea Notebook; Secrets to Your Own Style: Read! Read! Read; Choosing the Very Best Resources for Read Alouds; Set Up Your Very Own Writer's Nook; Tips for Terrific Titles; Taking Care of Your Treasures; Ideas for Helping the Struggling Writer; Tips for the Stressed Out Mom; Easy Books! Do You Have A Book Already; Quick Tips for Making a Book…NOW; Hey! What About Using Copywork to Make a Book? Is THAT Ok??? Make a Book Using Your Copywork; Wouldn't Narrations Make CUTE Books; Love Notebook Style Books??? They are EASY Too; Let's Make Easy Booklets; Introducing Lapbooking…By Suzanne Schatzle; Let's Try Lapbooking; Easy E-books and Books on CD; Quick Tips for Staying Organized in the Midst of Projects; What Ya Need To Get Started…Our Easy Supply List; Tips for Using Your Computer; Beyond Traditional Print; Recommended Resources; NOTE! Great Websites to Check Out…PLUS! Much, much more!
PLUS! You get our COMPANION CD-ROM with 100's of full color samples of children's books, over 50 printable page templates, and much, MUCH MORE!  (NOTE: Our Companion CD is all loaded online on the download page–you can access it immediately upon purchase!)
PLUS! Order this week and you get a FREE Audio Workshop of our Convention Workshop HOMEMADE BOOKS! YES! YOU CAN BE A WRITER TOO!
Grab everything today for only $30.00!
[wp_eStore:product_id:14:end]