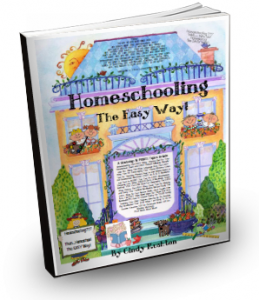 Homeschooling The Easy Way Manual…Just when you think that Cindy Rushton has brought the best books to us, she finishes yet another that we can call, "THE BEST YET!"  The Homeschooling The Easy Way Manual is packed FULL of great information, affirmation, and encouragement! So, need a bit of encouragement? Need some FRESH ideas?  Want a peek into another homeschool? Whether you are just now getting started…or you have been homeschooling for millenniums (REALLY!!), this manual by Cindy Rushton is sure to encourage and inspire you.
Our Homeschooling The Easy Way Manual was developed in response to the cry for an EASY approach to homeschooling. Chapters in this book are a potpourri of Cindy Rushton's writing through the years. Although once scattered among the many books and magazines that she has produced, this manual is compiled to include Cindy's favorite articles for helping YOU to begin (or Re-start!!) your homeschooling journey on the right track! PLUS…it is designed so you can ADD to it as more great articles (OR your OWN ideas) come out!
So, whether you are struggling with fears…wondering about how to develop YOUR OWN philosophy of Education…needing some practical tips for making homeschooling a bit easier…or just needing a little affirmation, this is your book! In this book, Cindy will help to make it easy for you to find your way! We think that you will LOVE this book! Want to peek at the chapters???
Topics Include:
Homeschooling The EASY Way; Hearing God for Your Homeschool; Quick and EASY Record-Keeping; Discipleship ALL Along The Way; Language Arts The EASY Way; Tips for Encouraging Your Young Writers; Quick Tips for Teaching Phonics; How to Use Whole Books in the Homeschool; Narration…EASY as A, B, C; Notebooking! Sure to ADDICT You Too; An EASY Notebooking Shopping List; What SHOULD Go In A Notebook; Scrapbooking! YES! You CAN Have Fun Geography The EASY Way; History The EASY Way; Quick Tips for Making and Using Your Timeline Notebooks; Nature Study The EASY Way; On Your Nature Walk…Don't Forget; Fine Arts The EASY Way; Need Ideas for Those Fine Arts Notebooks???; How to Choose Poetry for YOUR Family; Teaching Your Older Children: Gearing Up for Another Big Homeschool Year (OR! What I am Going To Do On Summer Vacation—OR On Christmas Break—OR On Monday Morning!); PLUS Much, Much More!
If this book is not jam-packed FULL of great information, Cindy also includes a whole section of great reproducibles perfect for your yearly planning and record-keeping…creating fun and easy notebooks (even a TIMELINE!)…and recording your homeschool journey! You will love every page!
Regular Retail: $30.00
SAVE HERE! $25.00
[wp_eStore:product_id:15:end]