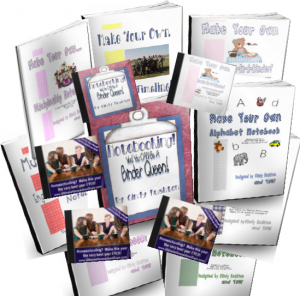 Yes! At last we are bringing our home to yours in even MORE practical ways.  Have those Notebooks that Cindy writes about seemed just a little too abstract and out of reach for you?  Now, Cindy brings you all you need to make your OWN notebooks in your home.
These notebook packs are all digital. You can download each set, then print as many times as you need for your own family. You will LOVE these!
Look for MORE products being produced from our home to yours!
See our entire line of MYO sets here:
Want them ALL???  Order Online Now!!
EVERYTHING YOU NEED TO BEGIN NOTEBOOKING EBOOK SET
delivered within 24 hours to YOUR email box!!
SAVE NOW!
$100.00
Want to order with a friend?
SURE! We are offering our Ebook for a SUPER SPECIAL when you buy one for yourself AND a friend! BUY ONE-GET ONE HALF OFF! Just order BOTH for $150.00. We will need for you to make a note that you are taking advantage of our BUY ONE-GET ONE HALF OFF DEAL. Include email addresses for both recipients! You will bless your friend AND yourself!
Both of You Save!
$150.00
Need Help Notebooking?
Grab our book!
Don't forget Mom!
We can help YOU too!