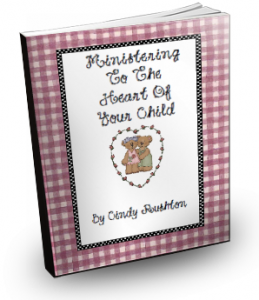 Throughout our years of traveling to share with conventions, mom's meetings, and our own seminars and retreats, I have heard the heart-cry over and over and over again.  The heart cry of mothers who just want to minister to their children, but they do not know where to begin. The answer is not curriculum… not homeschooling… not becoming more and more  "religious"…or even QUITTING!  The answer is ministering to the hearts of our children.—Cindy
This book is different from any other child training book out there because it gets straight to the heart of the matter… ministering to the heart of our children.  Whether your child is still little, cute, and funny OR in the midst of deep rebellion, this book will minister encouragement and direction straight from the Word of God!
Topics include: Turning Our Hearts Back Home; The Heart of the Parent: Begin With Me Lord; Ministering to Their Hearts In Little and Big Ways; The Need for Vision; Challenging Them To Greatness The Incredible Need for Praise Strengthening the Will of Your Child Tying Strings; Building Your HOME;  How to Break Your Child's Heart in Ten EASY  Steps.
Don't miss this one!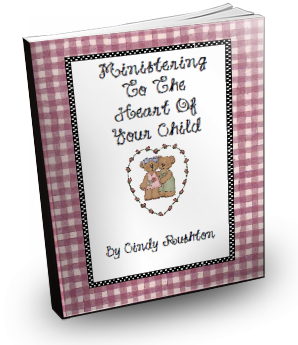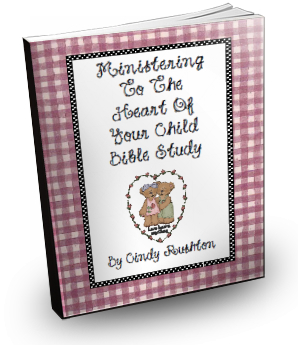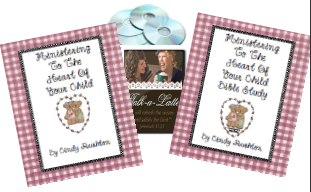 Ministering to YOUR Heart as You Minister to Their Heart!