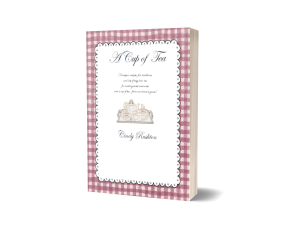 Ready for a cup of tea?
Do you just LOVE tea?? This NEW  book was a blast for Cindy to write.  She wrote this book as a gift to Elisabeth, her daughter so she would have all of the "Family" recipes and ideas that have been part of their family traditions.  Now, this is available for you and your family as well! If you are intrigued by tea and want to bring the tradition into your home, this is your book.  If you want lots of recipes and ideas for tea time or even a tea unit study, this book is just what you are looking for.  Even if you are looking for that perfect gift idea, this is one that you will find perfect for anyone, any age, at any time of the year.
Just peek at the chapter titles:
Let's Make a Memory…Over Tea!
Tea-riffic Tips…
Getting Ready for Tea…
CollectTEAbles…
Just a Few TEA-dbits!
Time for Tea???
E-TEAquette
Tea Tips…
Easy and YUMMY Recipes for Tea Time
From Cindy's Journal…
Plus MORE!
Don't miss this fun book! We suspect that it will be your "cup of tea!"
PRICE: $8.00
[wp_eStore_buy_now:product_id:1:end]