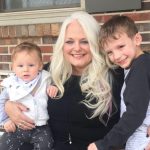 How long has it been since you have written a sweet love letter to your sweetheart?
Today, my husband called to ask me to stop by his office and grab some things that needed to be shipped out. I stopped by just to grab the goodies. But, I could not leave without grabbing a Sharpie and writing him a quick love letter.
It only takes a minute…or a few. Yet, personal, handwritten love letters are an ideal way to let someone know you really care. They really express your feelings that so often are left for others to "guess" or "just KNOW." [Read more…] about How Long Has It Been….