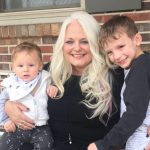 Stressed? Been stressed a little too long? Too often? Need some help? Well, try the following and see if they don't help a bit!
–> Go on a Prayer Walk—regularly! Praise and worship the Lord. Pour out your heart. Talk to Jesus the whole way! Listen to His sweet "conversation" with you. Be refreshed!
–> Use a Daily "To-Do" List to operate from. List your TOP FIVE things each day the night before. Go back over each morning during your Quiet Time and pray about your day before you. Take it all to God and lay it before Him. Keep in your own "Brain-in-a-Binder" so you can rest your mind. Go over your list as you throughout the day to keep a tab on how you are doing (also so you will not chase rabbits). Watch how much more peaceful each day will be.
–> Turn on Praise Music—LOUD! Got an iPod? I call mine my "stress-buster." I LOVE turning it on while I clean or while I work on my daily chores. Not only does it make the work much more fun and easy, but I also find myself taking the Lord into every aspect of my day. Priceless!
[Read more…] about Destressing the Stressed Out Gal with Cindy Rushton