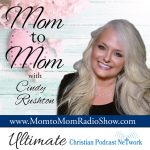 I am SO excited! I am trying something new and fun! I am recording this week's ezine for you guys to HEAR. It was fun to put it together. Leave a comment and let me know how you like it.
This week's topic:
Education is a LIFE By Cindy Rushton
Download PDF Version (to print out–this will not be available every week so subscribe below to not miss even one issue!)
Like this?
You will LOVE our new format for our ezines. Subscribe at:
https://www.CindyRushton.com/Subscribe.html
Also, you will love our online radio show:
www.MomtoMomRadioShow.com