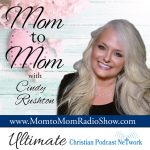 Ready for one AMAZING show? This is a must for EVERYONE!
Join Cindy live as she interviews Ken Bevill from Fireproof, the movie. Ken acted as Caleb's best friend in the movie. He was my favorite character. Want to meet him and hear his heartbeat on marriage? Grab a big cup of tea, settle in for a bit…WITH YOUR JOURNAL AND BIBLE! This is one amazing show! Tell your friends to join us!
Don't miss this show!
See their Website!
https://www.fireproofthemovie.com/