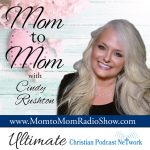 Ready for one AMAZING show? This is a must download for EVERYONE! In this show, Cindy interviews Stephen Kendrick from Fireproof, the movie. Grab a big cup of tea, settle in for a bit…WITH YOUR JOURNAL AND BIBLE! This is one amazing show!
Download today! Or listen here:
Don't miss this show!
See their Website!
https://www.fireproofthemovie.com/