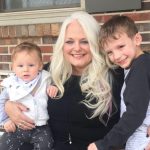 Depressed? Down? A bit SICK-AND-TIRED? Weary? Desperate for a change?
Sweet friend, I have been there. Actually, I was so deeply depressed that the best way to describe it is to think about the Grand Canyon with no apparent way out. That is how I felt. I felt too tired and weary to even begin the ascent back out. I was overwhelmed with the load. I could not go on the way I was going any longer.
I do have good news!
God healed me from depression. He broke the chains that bound me for far too long. He gave me a new beginning. I have never gone back. Now, this does not say that I am living in some fantasy world. Sweet friend, I KNOW depression. But, I hate it. I do not ever want to go there again.
Wondering, how do you stay away? How do you stop its vicious attack right in its tracks? [Read more…] about Depressed??? Try This…