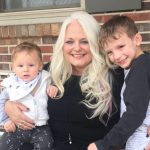 Happy NEW Year!
I pray that your holiday season was simply spectacular! I am fresh off of my vacation. I was blessed with PTO time AND time out of school. I took my last final and headed south to Florida to enjoy the holidays with my grands…oh, and children. 🙂
During the holidays, I not only made a lot of fun memories, but I also geared up for this New Year. One of my biggest resolutions was/is to re-launch the ministry, ready-or-not (I may or may not have struggled with perfectionism, which delayed the re-launch for far too long. Ok..I DID!).
Soooo….I am excited to say that ready-or-not, I am digging into the New Year with ALL THINGS NEW! I have gazillion things that are NOT done before we re-launch this ministry. The good news is that I am sticking to my commitment to be "back-in-the-game."
So, today…
We re-launch! 
What can you look forward to?
Something NEW everyday! Yep! I felt that the Lord was very specific in relaunching. He was just as specific as He settled my fretting heart and spoke the words, "ONE THING A DAY." So, that is my commitment. It may be something on social media. It may be something here. It may be something live in person. However, I commit to something every single day. Just imagine what will be back in motion at the end of this year!
Podcasts! Oh! I am beyond excited about this! We have two podcasts that are being prepared for you this year. Join my email update lists and follow me on my social media. We will have all of the details public very soon. You definitely will NOT want to miss this!
NEW and OLD products! We had a really big "hit" 3 years ago. Our site was maliciously hacked. We completely lost most of our websites with their product download pages and membership sites. Talk about a devastating loss! Rather than try to have "everything" up and going for this launch (which is truly a formidable task), we are starting now with some of our oldies that you guys love and we will be launching NEWBIES and bringing back other OLDIES along the way. We have two things we are doing to make this a "sweet" deal for each of you.

First, we are offering a fun discount on our products right now. The discount code is ALLTHINGSNEW. Type it in with any order and save 50% of your order of any size. No limits on how many times you use it or the size of your order. You just save!
Secondly, the oldies will feature major revamps. They are being updated and expanded. If you purchased them in the past, you will not have to purchase again, but you will receive the updated versions. That is our commitment to serve you in excellence. We love our supporters. You are family. We appreciate that you support us through the years and through whatever comes our way.

I am available for your events/shows/coaching needs. We are developing my schedule at this time. If you would like for me to join you, contact me at: cindyrushton@gmail.com with the subject line: SCHEDULE CINDY. We will set it up!
Ready for all things new? Let's do it! Let's make this year the very best ever!
Wishing you God's richest blessings!
Cindy